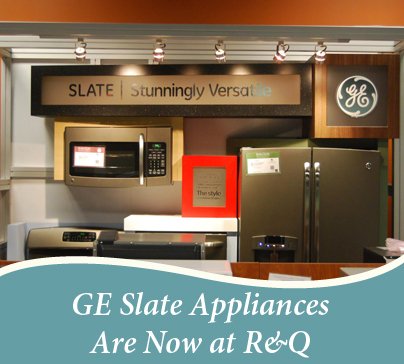 Experience style redefined!
Ruby & Quiri welcomes GE's new fashion-forward finish, Slate: a color that is just as stylish and sophisticated as stainless steel but with a strong, earthy feel.
From exquisite slate flooring to tasteful cabinetry, kitchens today have become more than just a place to prep meals. They have become a place for families and friends to come together and entertain.
Whether you are looking to replace a single appliance or remodeling your entire kitchen, GE's Slate appliances are designed to blend with other stainless steel, black or white appliances, or make a statement by themselves.
The Benefits of slate include:
Resist fingerprints
Easily complements other appliances
Attractive color looks unique and stylish
Easy to clean and keep looking great
Finished with bold, brushed metal touch points
Stop in today and see this amazing lineup.  We can't wait to show you in person!