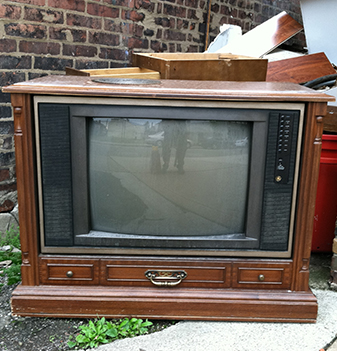 Think you have the ugliest TV? Is your TV is so old, it belongs on display in the Smithsonian? If so, our Ugly TV Contest is here, and you could win a new one from R&Q!
Here's how to enter: Take a picture of you on your ugly TV and email it to facebook@randq.com. You've got until Sunday, March 24th  to submit your picture. We'll post the photos on our Facebook page Monday, March 25th. You'll have until Saturday, March 29th to vote for the ugliest one.
Win a brand new 50″ HDTV – First Place
Win a brand new 40″ HDTV – Second Place
If you're not already a fan of R&Q on Facebook, "Like" our page so you can vote and help decide who deserves to win.
To Enter:
1.) Email a picture of yourself sitting on or standing by your ugly TV to facebook@randq.com.  You need to be in the picture with your TV in order for the entry to be valid.
2.) Entries will be accepted through Sunday, March, 23rd.
3.) The R&Q team will select the top 10 ugly TV's.
4.) The top 10 TV's will be placed on Facebook in a photo album for fans to vote on the ugliest TV on Monday, March 24th.
5.) Voting will be until Saturday, March 29th at 3:00pm.
To Vote:
1.) Go to our Facebook page
2.)If you are not already a fan, click the 'Like' button at the top of the page.
3.) Go to the photos tab and click on the Ugly TV Contest album
4.) Vote for your favorite ugly TV by clicking the 'Like' button under the photo
5.) Invite all your friends and family to our Facebook page to vote for their favorite
6.) The photo with the most likes at 3pm on Saturday, March 29th wins at 50″ HDTV.  And for the first time, the photo with the 2nd most likes wins a 40″ HDTV!
Good luck, and may the ugliest TVs win!