Like most people, laundry probably isn't your favorite activity. That's why we've rounded up a few DIY solutions to help make your laundry day easier and more enjoyable! Let us know if you use these recipes and how well they work in the comments!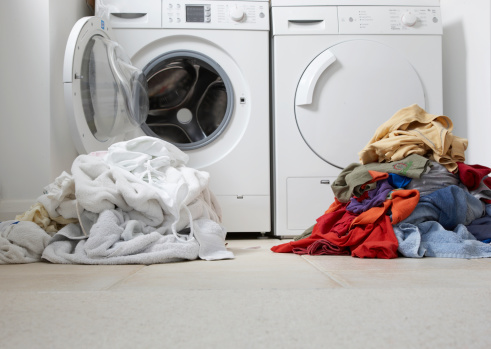 DIY Scent Booster Recipe
This simple (and inexpensive!) recipe will keep your linens, towels, and clothes smelling divine even after a few weeks in the closet! Use your favorite essential oils to create a natural aroma that the whole family will enjoy!
Incorporate about 2 cups of epsom salts with 15 or so drops from two of your favorite essential oils (orange essential oil and lavender essential oil recommended), then store the mixture in a glass jar. Add 1/8 to 1/4 cup of the laundry scent booster directly to your washing machine tub before you begin the cycle. Source: http://simplyshellie.com/homemade-laundry-scent-booster-recipe
Miracle Laundry Whitening Solution
If you're stumped by whites that have turned into a frustrating shade of yellow, this is a promising recipe that can help restore them to their original glory! If you have a high efficiency washer that doesn't allow for easy soaking, you can use a large pan on the stove.
Fill your washing machine with extremely hot water to the point where the article is just barely covered (you want to concentrate the cleaning power as much as possible). Add 1 cup of laundry detergent, 1 cup of powdered dish washer detergent, 1 cup bleach, and 1/2 cup borax. Soak for at least 2 hours or overnight. Then wash like normal. Source: http://www.onegoodthingbyjillee.com/2015/09/miracle-laundry-whitening-solution.html
Hacks for Tough Stains
These common household items can help make tough stains disappear!
Rub chalk on grease stains to draw out the grease, then wash as usual. You can make a sugar paste with 2 TBS sugar and 1 TBS warm water, then rub on grass stains and let it sit for 30 minutes to break down the chlorophyl. Rubbing alcohol can also help remove grass stains. Black pepper can help keep your colors bright! Just add about a TBS to a load while you wash! White vinegar can be used instead of traditional fabric softeners to keep your clothes and towels soft and fluffy! Source: http://www.babysavers.com/top-laundry-hacks/