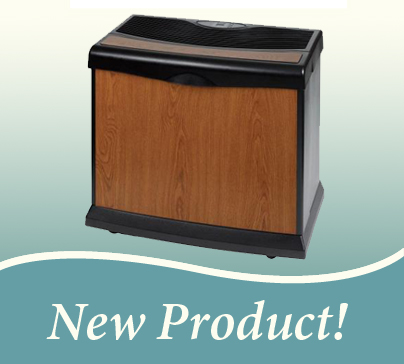 Ruby & Quiri is happy to announce our new lineup of Essick Air Humidifiers!
Do you experience dry nose, throat, eyes or skin at home?  Does the air indoors feel dry?  The problem could be poor indoor humidity levels.  A new humidifier can help dramatically.
Here's how:
Humidifiers help provide a healthier, more comfortable indoor climate– because susceptibility to viruses and bacteria is greater when the inside air is too dry, maintaining proper humidity levels can help make indoor air healthier.

Humidifiers provide substantial energy cost savings and increased comfort– indoor air will feel warmer at 68°F when properly humidified than it will at 73°F when relative humidity levels are too low.

Humidifiers protect fine furniture– because wood tends to shrink, split, and crack in an environment that is too dry adding the proper amount of moisture to the air helps lessen these problems.

Humidifiers help relieve the physical discomforts of dry nose, throat, lips, and skin. The moisture they add to dry air also helps alleviate common nuisances brought on by winter heating, such as static electricity and annoying shocks.
Outside Temperature

 

Indoor Relative Humidity


Above 50 °F Not over 50%
Above 20 °F Not over 40%
Between 10º & 20ºF Not over 35%
Between 0º & 10ºF Not over 30%
Between -10º & 0ºF Not over 25%
Between -20º & –10ºF Not over 20%
-20ºF or below Not over 15%
Air humidifiers are a quality, low-cost solution that will have you feeling better and saving money on energy costs in no time!  Stop in and see us today to learn more.