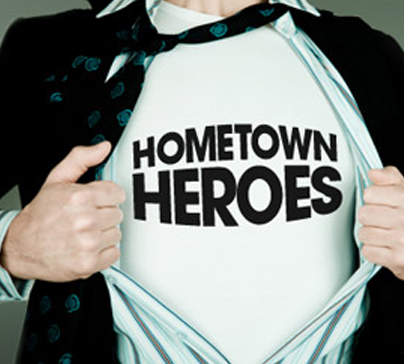 This November, we're launching the "Your Hometown Hero" contest. Nominate someone who is making a difference in our community, and they could win a great prize from Ruby & Quiri!
Just in time for the Holiday Season, here's your chance to make a difference in the life of someone who is making a difference in our community every day!
In 500 words or less, e-mail us a letter about the person in our community who you feel is truly making our area a better place to live.  The contest is open to residents of Fulton, Montgomery, Hamilton, & Schoharie Counties.
We'll choose the top 20 nominees, and post their stories to a new Album on our Facebook page.  Then, we'll put them to a vote.  Each nominee will remain anonymous.
The Hometown Hero story with the most "Likes" by 5pm on December 9th will win a $500 R&Q Furniture Shopping Spree!
Following are The Rules. Please read very carefully!
To enter:
Email a letter about your Hometown Hero to Facebook@RandQ.com.
The letter should be 500 words or less.  Be sure to include specific details about what your Hero has done for the community, and why you feel they deserve to win the shopping spree.
Be sure to include the contact information of the person you are nominating: Name, home phone number, cell phone number (if available), home address, e-mail address (if available), so we can contact this person in the event that they win.
Include your contact information as well, should we need to contact you for any reason (Name, Phone Number, e-mail address).
Entries will be accepted through December 1st, 2011.
If more than 20 nominees are received, the R&Q staff will select the top 20 Hometown Hero stories. Those 20 stories will be uploaded to the Your Hometown Hero Facebook album for voting.
Voting:
Voting will take place from December 2 – December 9, 2011.
The photo with the most votes at 5:00 pm on December 9th wins
To Vote, go to our Facebook page
If you are not already a fan, click the LIKE button at the top of the page
Go to the photos tab and click on the Your Hometown Heroes album
Vote for the Hometown Hero by clicking the 'LIKE' button under the photo
Invite all your friends and family to our Facebook page to vote for their favorites, too
Good luck!
Terms and Conditions:
All nominees MUST be emailed to Facebook@RandQ.com for submission. Be sure to include your name, address and phone number, as well as contact info. for the person you are nominating, in the email along with your story. Only entries received via email at Facebook@RandQ.com with the required information will be eligible.
You may submit your story in text in an e-mail itself, or attach a Microsoft Word Document.  Story must be 500 words (1 – 8.5″ x 11″ page) or less.
We will provide the winner with a $500 Ruby & Quiri furniture shopping spree.
The contest winner must reside in Fulton, Montgomery, Hamilton, or Schoharie counties.
Ruby & Quiri retains all rights, including the right to modify or cancel this promotion at any time.  See store for details.
Gift card excludes appliances & electronics, and is not combine-able with other offers.